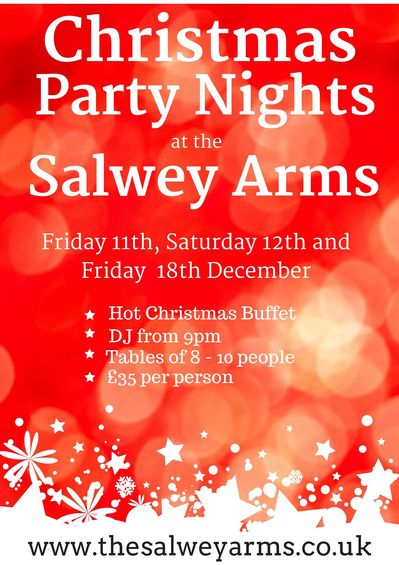 Celebrate Christmas at The Salwey Arms
A traditional reception awaits where guests will be greeted and welcomed into our festive marquee.
Here a specially crafted three course Christmas buffet will be served jam-packed with impeccably sourced, high-quality, and most importantly delicious produce.
After dinner, guests can relax and people-watch from the function bar, or head straight to the dance floor to end the night with party spirits soaring.
Venue open from 6.00pm
Buffet served at 7.30pm
DJ playing from 9pm – 1pm
£35.00 per person
Tables sit 8-10 people; larger groups will be split across tables or may need to share tables with other guests. This all adds to the party atmosphere and insures a great night as it makes everyone relax and intermingle.
To reserve your table contact us today 01584 711510 or email
contact@thesalwey.co.uk
.
Full payment is required in order to confirm your booking.